Lion's mane mushroom. Photos by Possum Bottoms Farms unless otherwise noted.
I love mushrooms. I haven't done a post dedicated to mushrooms, though I've included them in plenty of recipes such as Chicken Hearts with Mushrooms and Onions, Salmon-Leek Soup, quiche, and more (search "mushroom").
The main issue is that I love mushrooms so much that I usually bring them home, roast or sauté them, and have to try hard not to eat them all up right away! I like them plain, in omelettes, or topping just about any savory meal. They're so pretty, too! Especially the colors and delicate shape of oyster mushrooms.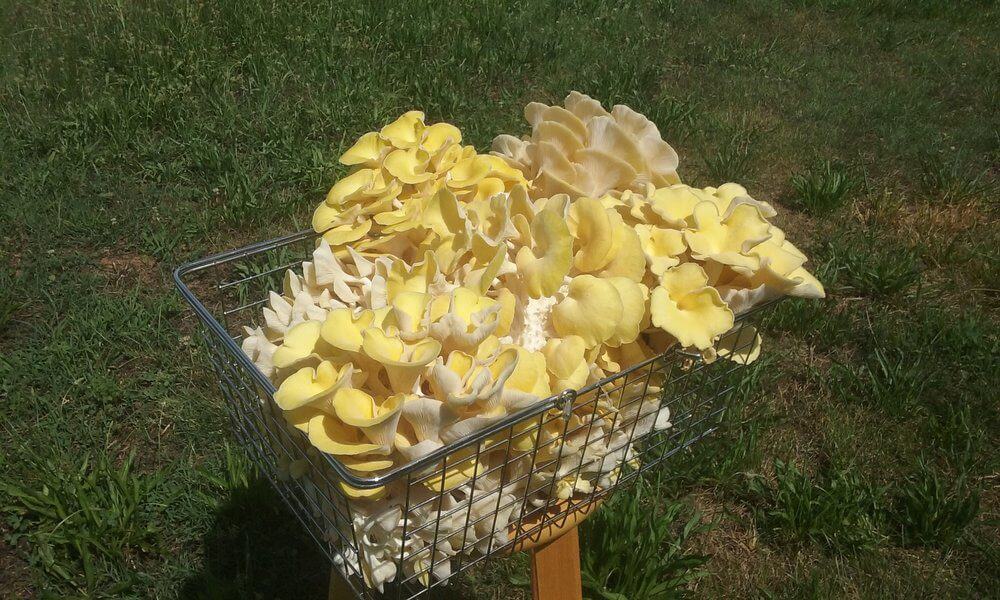 Golden oyster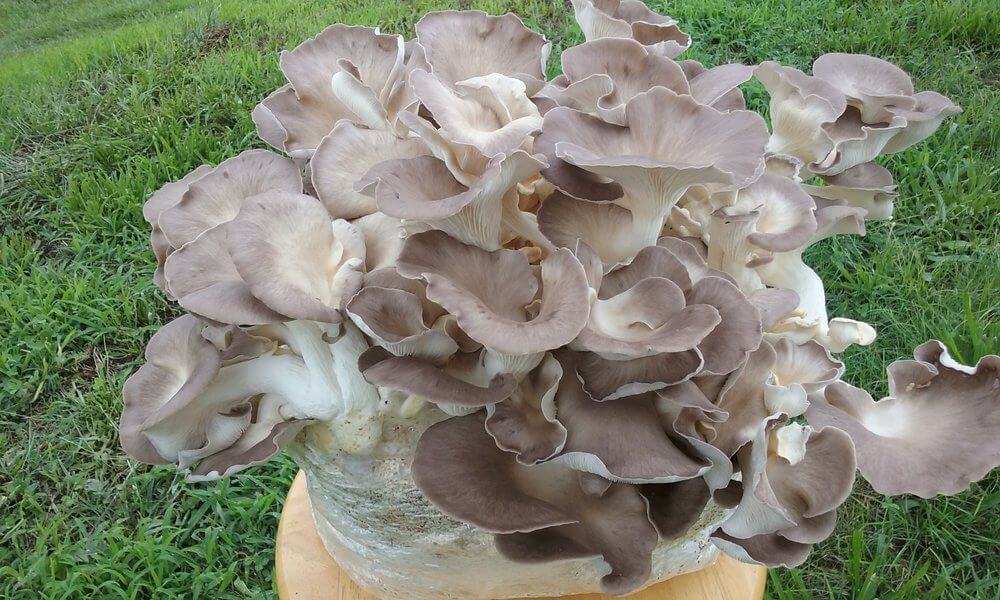 Italian Oyster
But the blog was overdue for a recipe where mushrooms are the star. Possum Bottom Farms brings plenty of recipes to market, and one day I looked through them and knew which one to choose: Shiitake Butter. Shiitakes, butter, and a little onion, what could go wrong?
Nothing went wrong for me, although note that you do need to be a little careful about proportions and temperature. However, if you've made other flavored butters or even frosting you should be fine.
This is a great time of year for shiitakes, too. They like the cool and wetter weather that's coming soon. We have several vendors who bring shiitake and other mushrooms, but Possum Bottoms Farms is our only mushroom-only vendor.
Because of the variety of conditions that various mushrooms prefer, Possum Bottom Farms have put a lot of work into a greenhouse with a variety of rooms and climates. See photos, such as this one, on Facebook and follow their progress, or ask at Market! This will expand the mushrooms' seasons. Mmmmm, more mushrooms!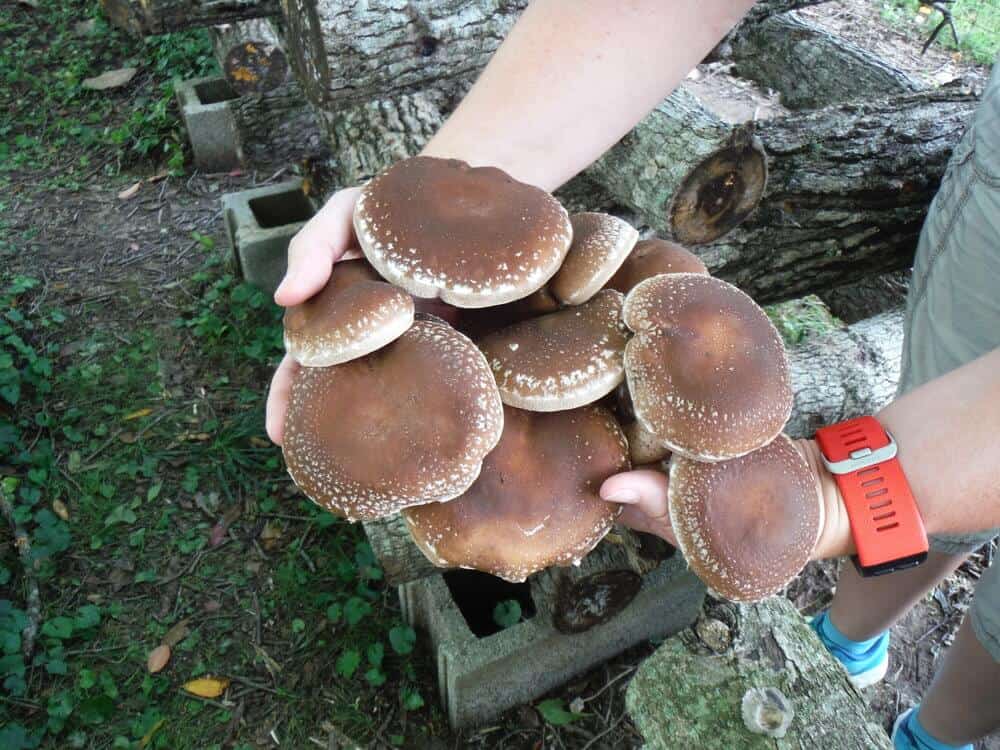 Log-grown shiitakes
This is a great recipe so I'll just make a few notes at the end. Use it wherever you want some shiitake flavor, without having to prep more mushrooms. I tried it on bread, too, and it was great.
Shiitake Butter
From Possum Bottom Farms
1 lb Possum Bottom Farms fresh shiitake caps, stems removed
2 Tbsp unsalted butter
1 sweet onion
1 tsp sea salt
1 tsp sugar
1 Tbsp soy sauce
About one and a half pounds of salted butter, softened
Remove stems from caps by holding the stem just below where it attaches to the cap and twist. There's a lot of flavor in the stems, but they're too chewy for most folks. We toss them in a zip bag and in the freezer. Once we have a few cups it's time to make soup stock. Cut the shiitake caps into ½" – ¾" pieces. Size doesn't really matter since you'll be sautéing and puréeing them later.
With medium heat, melt 2 Tbsp unsalted butter in a medium skillet and add 1 chopped sweet onion; sauté until soft. Add mushroom pieces, stir around a bit and cover the pan. Every few minutes, check the pan and stir things around; keep the heat warm enough to cook the mushrooms but try to avoid browning the onions. Once the mushrooms start to cook down and you see a liquid at the bottom of the pan (about 5-10 minutes), add sea salt and sugar. Reduce the heat and keep stirring things around every few minutes until the cloudy liquid at the bottom of the pan starts to become clear. Remove the lid and add soy sauce and cook a few minutes more; then turn off the heat.
Cool the mixture to room temp. Stirring the mixture periodically helps it to cool faster and more evenly. Once the mushrooms are only slightly warm to the touch, puree in a food processor until the mixture is a smooth paste. The smoother the better!
The secret to making an excellent shiitake butter: make sure everything, especially the ingredients and mixing bowl, is at room temperature for this final blending of mushroom purée and butter!
Measure purée into equal portions, along with an equal amount of medium soft room temperature butter. The purée volume can vary depending on the raw mushrooms' moisture content, but it should be about 3 cups.
Whip or beat the butter till fluffy, then stir in the purée, finally whipping it, until the butter and mushrooms are well blended. This is the secret to making a consistent, well blended butter. If components are too warm, you'll end up with soup; too cool, you'll end up with chunky butter. It's best to leave your butter out on the counter the night before to ensure the proper temp when it comes time to blend.
This makes about 3 lb. Shiitake Butter. Transfer to individual deli containers or jars for gifting, or wrap in freezer paper.
Printable recipe here
Heather's notes:
It's easiest to plan ahead so you can soften only as much butter as you need, that is, the same amount of butter in cups as purée. I made my purée one day, softened the butter overnight as recommended, then blended them together. You can also go ahead and soften plenty of butter and scoop some out if you have too much.
In theory you can make this with any amount of mushrooms. Having enough to purée and whip with the butter is the main issue (or, if you want to make especially large quantities, having enough space in your mixer, though you can do batches in that case). If you have a mini food processor and small mixer you should be fine with smaller quantities. Otherwise don't go much lower than the quantities given. I ended up making mine with ¾ pound shiitakes (what did I say about having trouble not eating them up?) and scaling down the other proportions accordingly, but that's probably as low as you can go with a regular size food processor and a stand mixer like I used.