I grew up in South Carolina and made many trips to the coast throughout my childhood. We often went out to eat, sampling the various fresh-caught fish that was available. Back at home, if Sunday meals were not spent with extended family we often went to Red Lobster, where I usually chose popcorn shrimp, but at least had a wide assortment of seafood to choose from. I love Chattanooga, but it's hard sometimes living in a landlocked state, so far from the ocean. I don't get there nearly as often as I did as a kid. And I don't eat out as often, either. If I want fish, I have to cook it myself!
After a lot of trial and error, often resulting in dry, overcooked fish, I came across Martha Stewart's recipe for parchment bluefish from Martha Stewart's Quick Cook Menus. This cookbook is another one divided into seasons and uses fresh ingredients, including the more unusual ones you might find in your CSA box or at the market. Bonus: Martha says each menu (52, one for each week of the year) can be made in an hour. I'm not sure I can manage that but that tells me that these are more doable recipes than many of Martha's others. There's more info about baking fish in parchment on Martha's website.
Often referred to in the French, baking "en papillote" helps fish to cook evenly and keeps it moist. This is done speedily at high heat in the oven so it definitely belongs in a "quick cook" menu. Although I've had trouble with fish drying out, overcooking, or cooking unevenly in the past, this method works for me every time. The only time I have ever had trouble with it is when a vacation rental oven quit working and dropped temperature, even in the short time I was baking it! Even then I managed to salvage the fish. It ended up being overdone, but melted in our mouths, and had not ended up dry and chewy like most overcooked fish.
Note: this method works for fillets. I've not tried it with steaks or other cuts.
I had eaten Pickett's Trout Ranch fillets at area restaurants for a while before I found out they would be available at MSFM. I was so excited! Trout is a favorite around our house and I am pleased to have it locally sourced and conveniently available.
Martha's original recipe calls for sautéing shallots to add to the fish, as well as using slices of lemon for flavoring and moisture. The recipe also calls for fresh oregano and parsley. One day I decided to sub herbs for both the shallots and lemon, using chives and lemon thyme in addition to the parsley and oregano, and the prep time got even faster. You can use any fresh herbs that strike your fancy and that you find at the market. I've used basil, lemon balm, mint, parsley, thyme, and marjoram – and typically combinations of herbs. For the fish pictured I used a combination of parsley, oregano, lemon thyme, chives, and garlic chives – it's my standard mix. Some recipes include vegetables such as summer squash or tomato inside the parchment.
The key to good fish is sealing the parchment well. Use a bigger piece than you think you need and try it at least the first time with a circle. Crimp the edges well, starting at one side and finishing on the other. Here's a video that shows how. I have not tried the egg white recommended in the video; I've always had good success without it.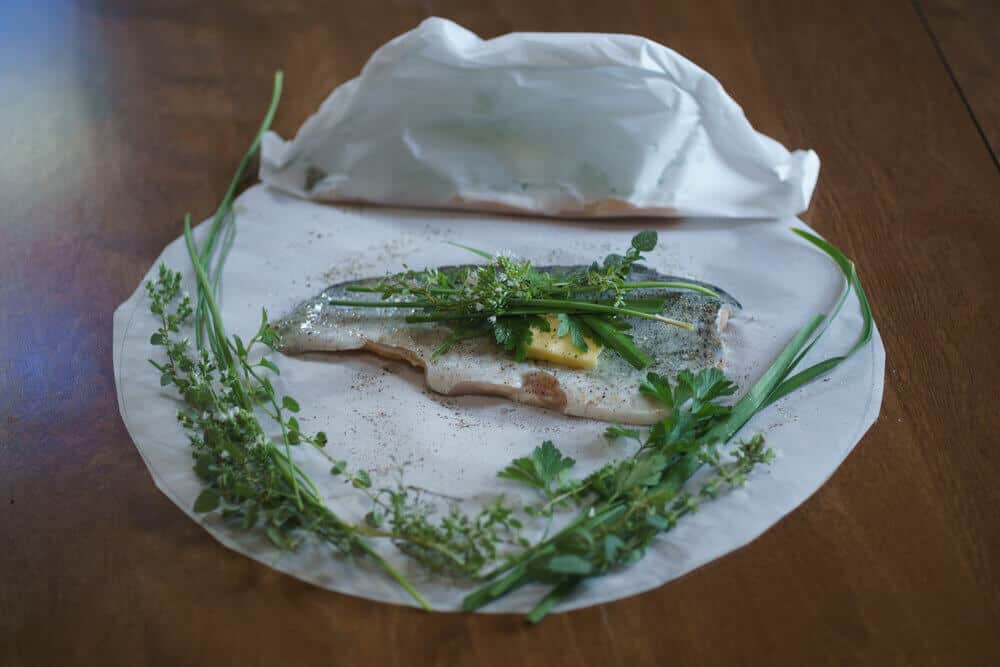 The original recipe called for an oven temperature of 450 but, thanks to Fahrenheit 451, I keep it down at 425 or 400. I've seen recipes as low as 350, so you can choose a temperature based on other items you are baking, just give it a little longer time for lower temps.
Parchment Trout
Adapted from Parchment Bluefish from Martha Stewart's Quick Cook Menus
1 tsp butter
1 sprig each fresh oregano, parsley, lemon thyme, and chives – or fresh herbs of your choice
1 Pickett's trout fillet
Preheat oven to 425 degrees Fahrenheit. Cut a round of parchment paper 14 to 16 inches in diameter (I don't have paper big enough for a 16 inch diameter! 14 is as big as I've seen it). Fold in half.
Place fillet on parchment and season well with salt and pepper. Place butter and herbs on top of fillet. Fold the parchment over and, starting at one corner, seal the edges by crimping them well.
Bake until parchment has puffed (and is probably brown), 10 to 15 minutes (I find that 10 is usually plenty, go longer for larger fillets). Tear or cut open parchment, carefully to avoid steam. Remove from parchment or serve from the paper.
Scale this recipe up for each fillet you with to serve. Serving is 1 fillet per person (kids and light eaters may eat less).
Here's a printable version.
Roasted veggies are a convenient accompaniment: get the veggies started and, when they are nearly finished, throw in the fish. Add a fermented veggie (kimchi green beans from Harvest Roots Ferments shown here), possibly some bread, and your meal is complete!